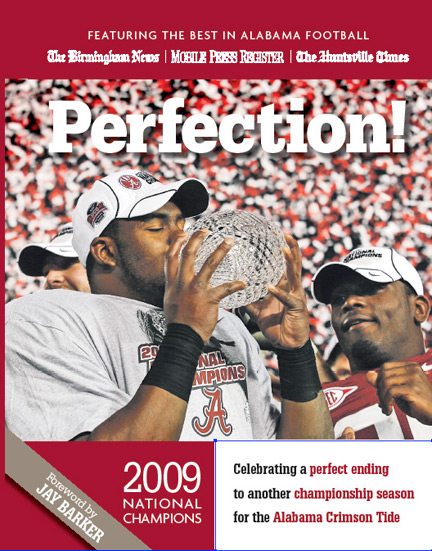 Softcover - $15.95

Hardcover - $24.95

Secure Payment by


If you have any difficulties, order by phone!
Call Toll Free: 1-800-697-3756



Perfection!
Alabama: 2009 National Champions

8.5x11 Available in Softcover & Hardcover 136pp
Over 100 full-color photos included.

Perfection! Alabama 2009 National Champions chronicles the Crimson Tides dominant run to the schools first national championship since 1992 using the words and photographs of three award-winning newspapers: the Birmingham News, Mobile Register and Huntsville Times. Featuring a foreword by former Tide great Jay Barker this dazzling keepsake includes game-by-game recaps, special player features including an inside look at Heisman Trophy winner Mark Ingram, and extended coverage of the Tide in the Southeastern Conference Championship Game win over Florida and its BCS National Championship Rose Bowl Game victory over Texas on January 7, 2010. A must have for all Crimson Tide faithful.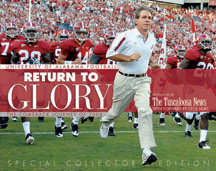 Return to Glory: The Story of Alabama's 2008 Season
ONLY $10 when you order "Perfection!"