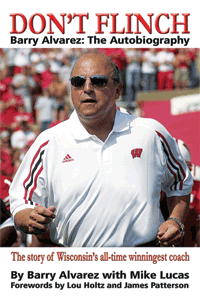 $19.95

Autographed Copy
Signed by Barry Alvarez
$29.95

Don't Flinch
Barry Alvarez: The Autobiography
The Story of Wisconsin's All-Time Winningest Coach

6x9 Hardcover 280pp Autographed Copies Available!

Despite inheriting a moribund college football program, and half-empty stadium, Barry Alvarez never compromised his values, never flinched - even after a 1-10 first season - and never stopped believing in his blue print for success at the University of Wisconsin.
By establishing a solid foundation, adhering to fundamentals and demanding an uncommon toughness from his players, Alvarez became the architect of three Rose Bowl triumphs in the '90s and became the school's all-time winningest football coach. While changing the culture of the sport on the Madison campus, raising expectations to heretofore unthinkable levels, Alvarez left an indelible mark on the Badgers during his 16 seasons on the sidelines. Not only did Alvarez take over a Big Ten footwipe and build the program into national prominence, but he sustained the success by sticking to a plan rooted to his upbringing in Western Pennyslvania and his exposure to three legendary coaches, Nebraska's Bob Devaney, Iowa's Hayden Fry and Notre Dame's Lou Holtz.
In his autobiography - Don't Flinch - Alvarez talks about the lessons that he learned from his mentors, the hurdles that he had to overcome as a young assistant and high school coach, and the challenge of taking over his own college program while living in a fishbowl, especially from his family's perspective. Alvarez maps out a strategy and game plan for young coaches who are seeking to achieve similar goals, and he also talks about his future as Wisconsin athletics director, and the future of college football. Alvarez's story, told in Alvarez's candid, pull-no-punches style, is written by Madison Capital Times columnist Mike Lucas, who also doubles as the color analyst for Badger football and basketball on the UW radio network. Lucas, a Beloit native, enrolled at Wisconsin in 1968, and wrote for the Badger Herald and Daily Cardinal before joining the Capital Times as a full-time writer in 1971. Along with national, regional and local writing awards, Lucas has twice been named Sportswriter of the Year in Wisconsin. Lucas is entering his 12th season on the radio network. In addition, he hosts a weekly radio talk show on WIBA and a weekly television show on UPN-14 and WISC-3 which is also seen in other markets around the state.


Secure Payment by



If you have any difficulties, order by phone! Call Toll Free: 1-800-697-3756