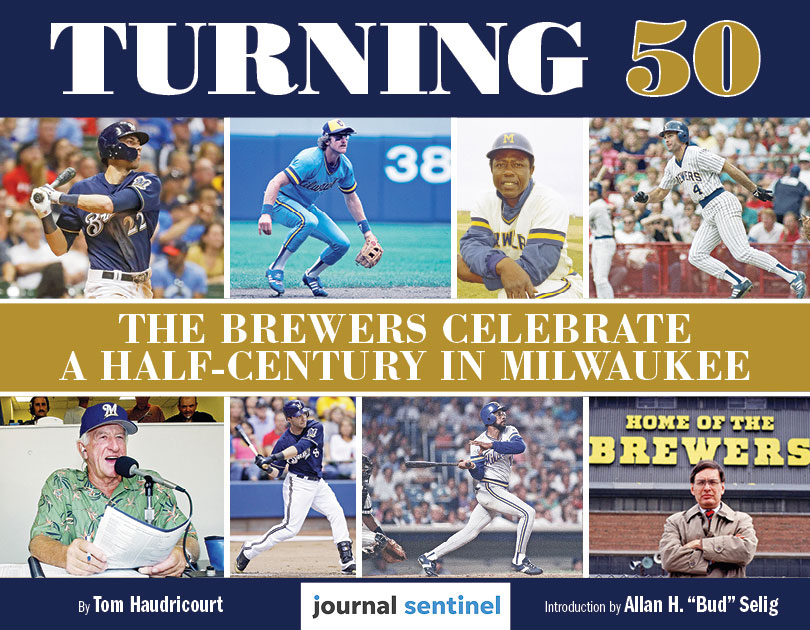 Hardcover - $24.95

Enter Promotional Code:
(Promo codes are case sensitive.)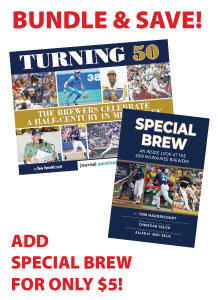 Turning 50 and
Special Brew - $29.95



TURNING 50
The Brewers Celebrate a Half Century in Milwaukee
11x8.5 Hardcover 136pp
When you had to overcome seemingly impossible odds merely to get a team, why shouldn't you celebrate 50 years of play in the major leagues? Turning 50 celebrates the story of the Milwaukee Brewers, who never would have happened if not for the persistence of initial team owner and future Commissioner of Baseball Bud Selig in bringing big league baseball back to the city after the beloved Braves bolted for Atlanta.

Take a walk down memory lane with early stars George Scott and Tommy Harper, Bambi's Bombers, Harvey's Wallbangers and the '82 World Series team, Hall of Famers Robin Yount and Paul Molitor, current stars Ryan Braun and Christian Yelich, and of course Mr. Baseball himself, Bob Uecker. They are all featured along with the rest of the key moments and players that have made the Brewers a Milwaukee and Wisconsin treasure these past 50 years. Each chapter includes a Team of the Decade, year-by-year record and finish, and an interview with a prominent player from each decade that provides insight to what the feeling was inside the clubhouse during that particular time. All accompanied by a treasure trove of photos from the Journal Sentinel archives.

This is a MUST HAVE for Brewers fans.
Secure Payment by


If you have any difficulties, order by phone! Call Toll Free: 1-800-697-3756