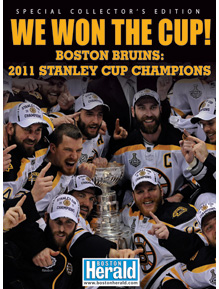 Softcover - $15.95


Hardcover - $24.95

Secure Payment by
If you have any difficulties, order by phone!
Call Toll Free:
1-800-697-3756

We Won The Cup!
Boston Bruins: 2011 Stanley Cup Champions

Available in Softcover and Hardcover
Over 100 full-color photos included.

We Won The Cup! chronicles the Boston Bruins run to their first Stanley Cup since 1972 using the words and photographs of the Boston Herald. This keepsake includes game-by-game recaps, special player features, and extended coverage of the Bruins in the NHL play offs.

A must have for all Bruins faithful.