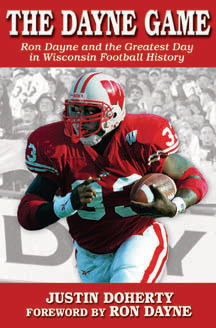 The Dayne Game: Ron Dayne and the Greatest Day in
Wisconsin Football History

6x9 Hardcover 224pp (8 page color photo insert)

The University of Wisconsin football program has enjoyed its share of memorable moments, great players and legendary coaches during its nearly 120-year history. But Badger football had never seen - and hasn't since experienced again - a day like November 13, 1999, when so many elements converged to form the most exhilarating and satisfying day in the program's history.

It was the day that running back Ron Dayne ran into the college football record books as the NCAA all-time leading rusher. It was a game that clinched the second of back-to-back Big Ten titles. It was an uncommonly warm, late fall afternoon that Wisconsin football fans refer to simply as "the Ron Dayne game." And it was a day that helped propel Dayne on to the 1999 Heisman Trophy as college football's outstanding player.

Justin Doherty, author of two previous books about Badger football and a 15-year veteran of the UW athletic communications office, has captured the essence of that magical day in The Dayne Game: Ron Dayne and the Greatest Day in Wisconsin Football History. The 6 X 9, 224-page hardcover book is being released in September, just in time for the 10th anniversary of that memorable 1999 Badger football season. Doherty conducted hours and hours of interviews with Dayne, members of his family, UW coaches (including head coach Barry Alvarez), teammates of Dayne's, media, Badger fans and employees of UW Athletics, all of whom played a role in making "the Ron Dayne game" the special experience it was.
NOTE: Internet Explorer 8 is not currently certified by PayPal. If you are using Internet Explorer 8,
you must download an alternative browser to use your promo code:
Click to download Internet Explorer 7, Safari, or Firefox. We apologize for any inconvenience.

Secure Payment by


If you have any difficulties, order by phone! Call Toll Free: 1-800-697-3756