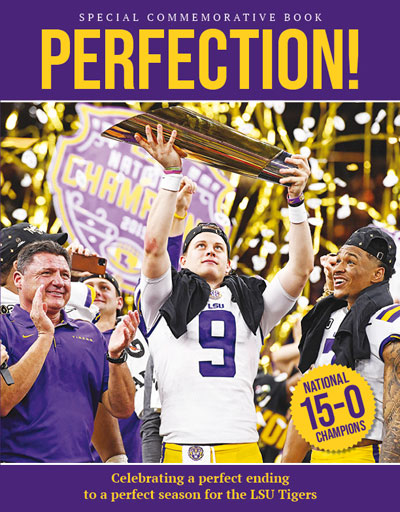 Softcover - $14.95

Hardcover - $24.95



PERFECTION!
Celebrating a National Championship for the LSU Tigers

8.5x11 Hardcover or Softcover 128pp
Over 100 full-color photos included.

PERFECTION! chronicles the LSU Tigers dominant run to college football's 2019 national championship. This dazzling keepsake includes game-by-game recaps from the 15-0 season, special player features—including in-depth looks at Heisman Trophy winner Joe Burrow and Head Coach Ed Orgeron—and extended coverage of the Tigers national semi-final win over Oklahoma and of course the National Championship game victory over Clemson on January 13, 2020.

A must have for all LSU faithful.


Secure Payment by


If you have any difficulties, order by phone! Call Toll Free: 1-800-697-3756